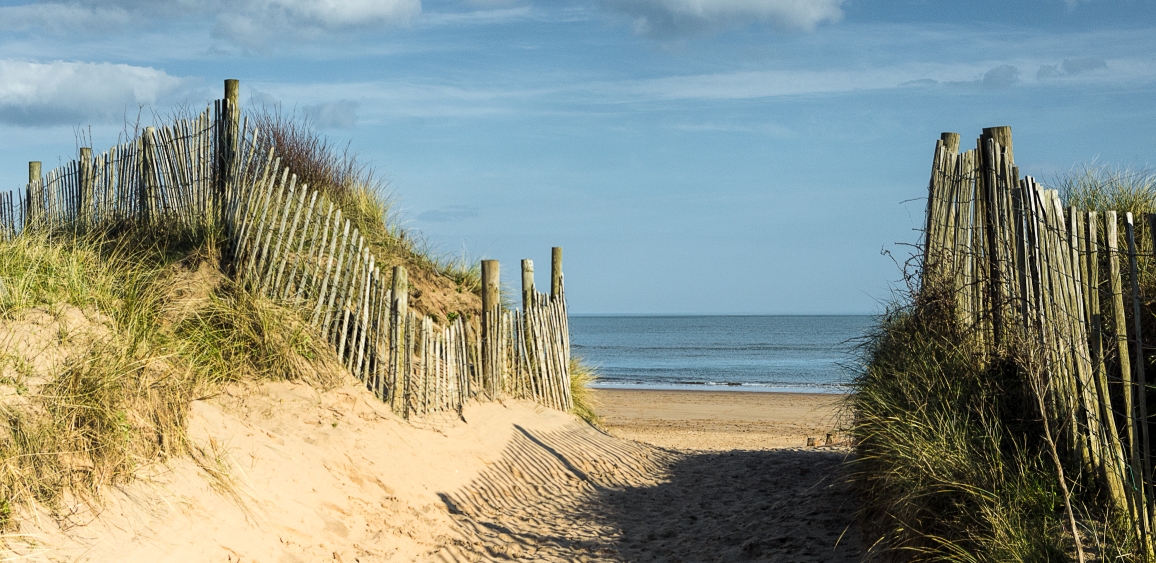 A –All Aboard – Hop aboard a boat trip and discover the enchanted landscape of South Devon from a different perspective. There are plenty of opportunities along the coast to enjoy a boat trip - Devon Sea Safari in Teignmouth offer lots of exciting excursions from their purpose built RIB.
B – Beaches – The beaches in South Devon are as plentiful as they are unique; spend some time exploring the coves, golden sands and peaceful bays. For family days out explore Seaton Beach or Blackpool Sands near Dartmouth – both have great facilities either on the beach or nearby. If you're looking for a more secluded spot, why not try Fishcombe Cove in Brixham or Soar Mill Cove Beach near Salcombe – access to the two is restricted with steep paths but trust us when we tell you the views will be worth it!
C – Crabs – Crabs are a huge part of the culture in this region and South Devon crab is certainly something you must try when in the area. Lots of local restaurants and cafés offer this delicacy; find out more about South Devon crab here and if you're really taken by it, you can learn how to make the perfect South Devon crab sandwich at home here.
D – Drive – Make sure to make the most of driving the coastal roads along this stretch of the county. Some of the journeys you will take in South Devon are just as good as the destinations! The A379 runs along parts of the coast from Torcross all the way to Dawlish.
E – Eat –It's well known that South Devon is home to some of the best local produce and amazing food, so don't forget to indulge yourself during your visit. Ice cream, fish and chips, scones and fresh seafood are just a handful of the foods we're best at and can be enjoyed in many locations across the region.
F – Festivals – With stunning surroundings, it's no surprise really that lots of top festivals are held in South Devon. From family friendly music festivals such as Glas-Denbury to great folk events such as Teignmouth Folk Festival and Sidmouth Folk Week, South Devon will provide a vast array for you to choose from. You can view all the festivals in South Devon here.
G – Get Wet – A trip to this part of the country wouldn't be complete without getting wet and trying your hand at some of the watersports on offer such as kayaking, canoeing or stand up paddleboarding. There are plenty of places to hire equipment, enjoy a trip or take a lesson depending on where you are staying in South Devon. SeaSports Southwest in Teignmouth is just one on offer – see more watersports options here.
H – Harbours – Wherever you find yourself on the South Devon coastline you're sure to come across some beautiful harbours, these make the perfect spot to rest and people watch or perch as you enjoy a refreshment; either way a stop at a bustling marina or harbour in South Devon won't leave you disappointed. For pricey yachts and beautiful sailing boats head to Torquay Marina or Exmouth Marina, alternatively, if you're looking to watch traditional fishing boats in action, Beer or Brixham Harbour are perfect places for this.
I – Island – Be sure to pay a visit to Bigbury Beach and make your way over to Burgh Island. The gorgeous island can be accessed by foot during tow tide but fear not if you get your timings wrong! You can hop on a sea tractor to make the voyage - an unusual and quirky form of transport that is sure to entertain the whole family.
J – Jurassic Coast – From Exmouth to just west of Lyme Regis lays the South Devon part of the Jurassic Coast, a designated UNESCO World Heritage Site. Wherever you're staying in the area, a visit to this breathtaking coastline will not disappoint.
K – Kites – Most of us have enjoyed flying a kite at some point or another in our lives and with South Devon's coast offering beaches and cliff tops in abundance it's the perfect opportunity to practise those skills. Kite surfing is also popular in the region if you're looking for a more adventurous activity.
L – Lighthouses – With such a rugged coastline, it's no wonder that lighthouses, many of which steeped in history, can be found sprinkled along the coast of South Devon. If you're looking to visit a lighthouse with staggering scenery a trip to Start Point Lighthouse is essential. For a classic, colourful treat, Smeaton's Tower in Plymouth is one to see. Many other lighthouses can be found in seaside resorts across South Devon such as Teignmouth and Brixham.
M – Marine Life – Rock pooling is a super popular activity here in South Devon and is a great way to get the little ones interested in marine life and their environment. The region boasts plenty of great beaches to enjoy rock pooling particularly at low tide, with Wembury Beach, Ness Cove and Preston Sands being just a few of our recommendations.
N – Naval – Plymouth has a long naval history which is showcased throughout the cities attractions. Devonport Royal Dockyard is still an active naval base so not widely accessible to the general public. However there is a heritage centre with exhibits, and a submarine as well as a memorial on the Hoe to commemorate those who lost their lives at sea during the First and Second World War and have no known grave.
O – Open Water – Wild swimming is fast becoming a popular sport across the UK and South Devon has plenty of stunning spots for those wishing to try it out. Secluded coves and hidden bays are some of the best places to enjoy wild swimming although if you're taking children with you it's always best to go to a busier beach where lifeguards are on duty.
P – Pier – A trip to a pier is the pinnacle of a traditional seaside holiday and here in South Devon two resorts proudly boast this less common attraction, somewhere you can while away the hours on 2p machines! Teignmouth Pier and Paignton Pier have collections of traditional arcade games alongside more recent additions for the whole family to play.
Q – Queen – Resting on top of a hill in Dartmouth and appearing to stand guard over the River Dart is Britannia Royal Naval College (BRNC). BRNC is the naval academy of the United Kingdom and is where Her Majesty the Queen met Prince Phillip.
R – Riviera Line – Arguably one of the most picturesque train rides in the UK, the Riviera Line runs from Paignton in Torbay to Exeter. If given the opportunity, make sure to jump on the train and take in the blissful scenery and coastline, passing two estuaries and through cave tunnels along the way.
S – Sandcastles – You can't have a seaside holiday without building a sandcastle or two – especially if you have kids in your party! South Devon is sprinkled with suitable beaches for building sandcastles, some of these include: Broadsands Beach in Paignton, Hope Cove near Kingsbridge and Exmouth Beach.
T – Take the Plunge – Coasteering is a popular activity enjoyed most by those looking for adventure and an adrenaline rush; of course, the rugged South Devon coastline provides an ideal environment for this. So for thrill-seekers wanting to experience South Devon from the water, coasteering is a great option – just remember that climbing rocks and jumping into the sea from height can be dangerous and those wishing to partake in the activity should always wear safety equipment and be accompanied by a qualified instructor.
U – Underwater – Instead of exploring the South Devon coast by usual means, why not head under the water to see what secrets lie beneath. Scuba diving along the coastline allows for divers to experience what's really happening beneath the water's surface. Similarly to coasteering, scuba diving is an activity that must be taken seriously with proper equipment and instruction at all times.
V – Views – From Plymouth to just west of Lyme Regis, the coast of South Devon presents some staggeringly beautiful views and what better way to enjoy them than by walking a stretch of the South West Coast Path. The South West Coast Path is 630 miles long and actually covers the whole of the coastline around the South West, from Minehead in Somerset to Poole in Dorset, of course, unbiasedly, we think the South Devon section is the prettiest and we're sure you'll agree!
W – Wildlife – Across South Devon the rivers find their way into the sea forming estuaries, and although often forgotten to be a coastal attribute, these areas play a huge part in the environment especially for wildlife. The Exe Estuary for example is a great place to discover the local wildlife. It is bordered by two nature reserves, and provides the perfect habitat for wading birds and wildfowl.
X – eXplore – Take some time during your holiday in South Devon to explore the history of this fascinating region. Whether you head to Seaton Jurassic on the Jurassic Coast and immerse yourself in the Earth's hidden past, take a trip to one of the National Trust properties such as Greenway or Coleton Fishacre, uncover the secrets held at one of South Devon's castles such as Dartmouth Castle or enjoy a day out at a museum. The South Devon coastline is steeped in history just waiting to be unearthed.
Y – Yachts – It might not come as a surprise but South Devon is renowned for is boating lifestyle. From swanky yachts moored in the many harbours to fishing vessels that help supply the region with delicious seafood. Every year during the summer months this is celebrated with the various regattas happening at most of the coastal towns so be sure to join in with the fun!
Z – Zzzz's – If you're heading to South Devon to make the most of the coast then there are plenty of places for you to stay that make the most of the seaside views. Beautiful accommodation, surrounded by enchanting scenery will make that good night's sleep, just a little better.
Related
0 Comments