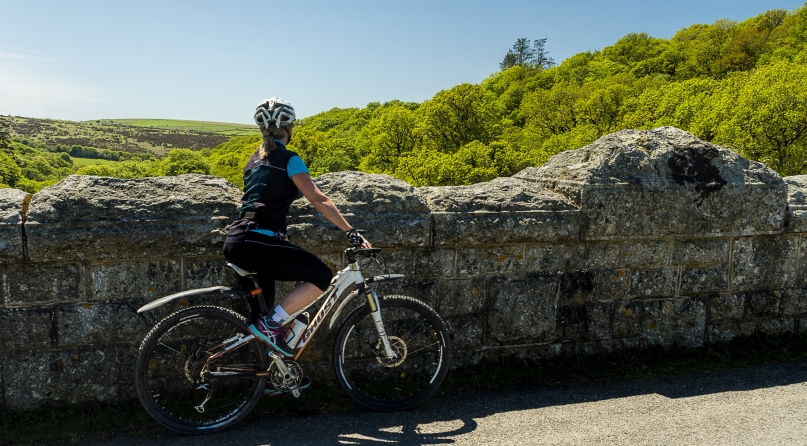 The South Devon landscape is dotted with numerous picturesque towns and charming villages as well as two bustling cities. And as diverse as our towns and villages are, there are just as many ways in which you can explore them.
We've put together an overview of the various ways available to travel around and experience what this region has to offer.
With no need for roads, cycle lanes or water ways, walking is the ideal way to explore the towns, villages, cities and communities of South Devon. There are many hundreds of miles of walking routes, foot paths and way marked trails that criss-cross South Devon, linking coast to countryside, towns to villages and forests to moorland.
Some of the most well-known walking routes in South Devon are listed below, but with an almost endless array of paths and routes to pick from, the choices for a brilliant day out exploring is nearly limitless.
The South West Coast Path offers some of the most incredible walks in the region and provides dramatic and spectacular views along the coastline. The path itself stretches along the entire coast of South Devon offering amazing vistas and access to hidden beaches, coves and parts of the coast that are not accessible by car. The South West Coast Path also provides the ideal route to walk between coastal towns and villages like Seaton and Beer, Exmouth and Budleigh Salterton, Dawlish and Teignmouth or Dartmouth and Strete.
The East Devon Way is a 40 mile long way marked trail that leads you inland from Exmouth to Lyme Regis, through gently undulating countryside and the East Devon AONB. The route passes through Sidbury, Colyton and Musbury as well as striking countryside and along river valleys.
The Templer Way is an 18 mile walk that traces the historic route of the granite coming from the quarries on Dartmoor to the docks at Teignmouth. The route follows the Haytor Granite Tramway and the Stover Canal and passes through Bovey Tracey and Newton Abbot as you walk from moor to sea.
Cycling across South Devon is one of the best ways to take in the sights at your own leisure, whilst stopping at charismatic villages along the way. From rivers, estuaries, moorland and rolling hills to hidden paths and winding roads cycling in South Devon is exciting, thrilling and breath-taking.
Some of the main cycling routes across the region are The Stover Cycling Trail connecting Bovey Tracey and Newton Abbot, The Exe Estuary Trail which links Dawlish Warren and Exmouth via the city of Exeter and Grand Western Canal Cycle Route running from Tiverton to Lowdwells.
Find out more about cycling in South Devon here.
Car
One of the easiest modes of transport for exploring a wide range of towns and villages in South Devon is by car.
The A38, A30 and M5 are the main routes through the region, offering excellent links between many towns and villages as well as Plymouth and Exeter. Roads lead from here towards the coast and throughout the countryside and on to Dartmoor.
Many of the smaller towns and villages of South Devon are accessed by country lanes, which provide great countryside views and a real feeling of escape.
If you are looking to rent a car during your trip to South Devon, try Rhino Car Hire who offer great deals on car hire from Exeter and Bristol Airports as well as various pick-up locations including Plymouth, Newton Abbot and Totnes.
Or try Auto Europe and take advantage of a wide variety of cars in numerous locations. In addition to car hire, Auto Europe also offers motorhome hire at great prices.
Bus
The villages and towns of South Devon are easily accessible via bus. With numerous regular bus routes operating between all major towns and villages you can easily leave the car behind when discovering what the area has to offer.
Stagecoach South West is the main bus operator for the region and their website has comprehensive journey planning and ticketing information to help you plan a day out and make the most of your time here. To go to Stagecoach South West's website, please click here.
Trains & Trams
There are a number of mainline railway stations in the region; Exeter, Newton Abbot, Totnes and Plymouth, as well as a host of branch line stops with connecting local services. With stations at seaside towns like of Teignmouth, Dawlish and Exmouth as well as countryside stops such as Honiton, Tiverton and Ivybridge, the rail network makes the whole region easily accessible.
There are a number of picturesque lines which connect different parts of the region. The Tarka Line runs from Exeter passing through Crediton and Eggesford as it makes its 39 mile journey through spectacular South Devon countryside to Barnstaple in North Devon.
A journey on the Riviera Line will take you along dramatic coastline and scenic river estuaries as the line makes it way from Exeter to Paignton via Dawlish, Teignmouth and Newton Abbot.
So if you're planning on taking a train here or want to leave your car at your holiday accommodation, catching the train is an easy way to explore the delights of South Devon.
For more information on train travel in South Devon visit our South Devon Train Travel page here.
South Devon is also home to a number of heritage lines offering a unique transport method between a number of the wonderful communities. Enjoy a ride on a narrow gauge heritage tram between Seaton, Colyford and Colyton and along the glorious Axe Valley in East Devon with Seaton Tramway. Or hop aboard a steam train from Buckfastleigh to Totnes, via Staverton on the South Devon Railway.
Boats
With its stunning coastline and numerous river mouths a boat trip or ferry ride is a relaxing and enjoyable way to travel between the towns of South Devon.
Whether you're wanting to explore towns and villages either side of a river mouth, like Salcombe and East Portlemouth on the Salcombe and Kingsbridge Estuary or Dawlish Warren and Exmouth on the Exe Estuary. Or follow the River Dart as it travels downstream from Totnes to Dartmouth or just take a leisurely cruise along the coastline, one of the many boat trips or ferries that operate around South Devon could be your answer.
As well as countless rivers and estuaries you can also find the Grand Western Canal among the water ways of the region. Journey along the canal as it meanders for 11¼ miles between Tiverton and Lowdwells past a number of quiet waterside villages.
Kayaking & Canoeing
For an alternative water based transport method, why not take to the waves in a kayak or canoe. There are many watersports providers who hire equipment or offer guided tours of the river valleys and coast around the region offering an opportunity to view the villages that sit along the water's edge from a different perspective.
Journey down the River Dart, towards Dartmouth, on a guided canoe trip with Winding River Canoe or Canoe Adventures and enjoy tranquil views of the river and the quaint villages that are only visible from the water. Or marvel at stunning views of Dartmouth and the surrounding coast on a guided kayak trip from Sea Kayak Devon.
You can also explore Exeter and the River Exe on a guided kayak or SUP trip with Exe Adventures or travel at your own speed in a hired kayak or bike from Saddles and Paddles at Exeter Quay.
Something a little different
Take to the skies and watch as the spectacular South Devon countryside dotted with towns and villages passes peacefully below. Take a trip with Aerosaurus Balloons and see if you can spot your holiday accommodation or get some inspiration on the next town to visit as you float high over South Devon.
With such an amazing range of towns and villages scattered across the landscape you have a great choice of places to explore and an amazing range of ways to travel between them on any visit to South Devon.
To find out more about the towns, villages and cites of South Devon visit our Places page here.
For more information on how to travel around our amazing county visit our Travelling Around page here.
Related
0 Comments